Percorso pagina:
Home
---
Home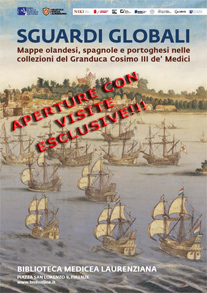 Dal 7 novembre 2019 al 29 maggio 2020 apre la nuova mostra
Sguardi globali. Mappe olandesi, spagnole e portoghesi nelle collezioni del granduca Cosimo III de'Medici.
In occasione dell'apertura della mostra, il 6 novembre 2019, dalle ore 14:45 alle 17:30, la Biblioteca Laurenziana, in collaborazione con l'Istituto Universitario Olandese di Storia dell'Arte e l'Accademia della Crusca, ospita la conferenza internazionale:
A Princely Education.
Cosimo III de' Medici's travels through the Netherlands: global ambitions and local contexts
» Comunicato stampa – pdf
Corredo iconografico – formato zip
Biglietti online – sguardi globali
Visite guidate – sguardi globali
---
Would you like to receive updates about eventes stage at the Biblioteca?
---
I luoghi di Boccaccio
---
---