Percorso pagina:
Home
---
Home
News:
We inform you that on Thursday 21 September at 3.30 pm in our Tribuna D'Elci there will be a reading with music of Nastagio degli Onesti novella from the Decameron. The event is organized by the Polis Association as part of the Florentine Summer in collaboration with the Giovanni Boccaccio National Body.
Reading and music are provided by Oranona Teatro: voice by Ilaria Landi and musical accompaniment by Alessio Montagnini.
Free entry.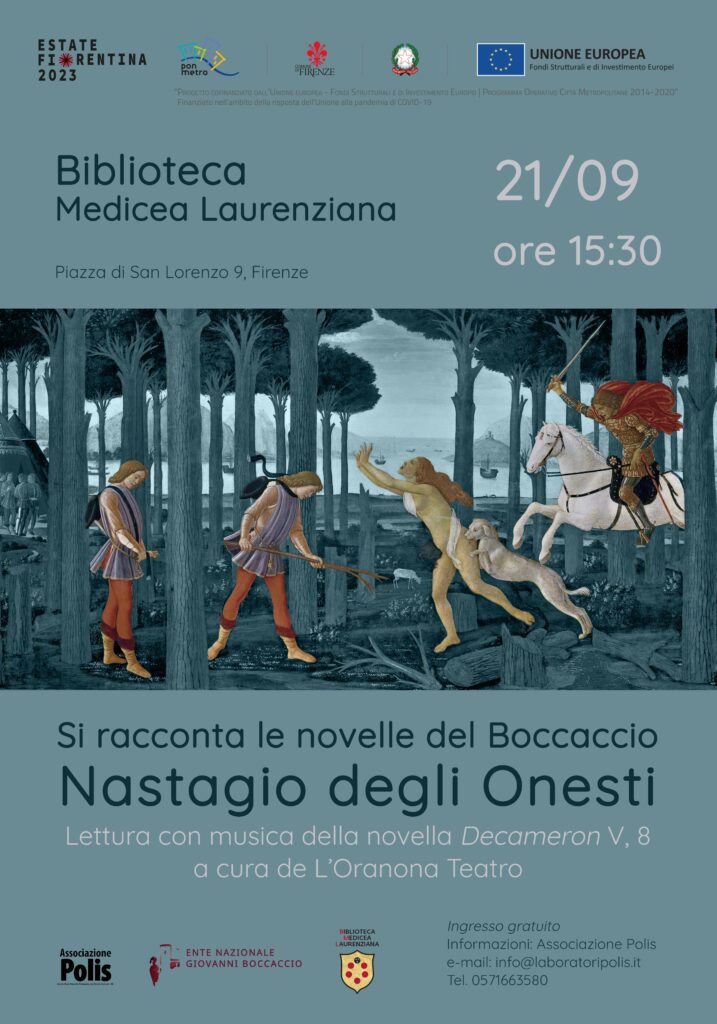 Note to the public
Special opening of the ancient reading room with an exhibition of Hebrew manuscripts and printed books 
from 30.01.2023 to 3 february 2023 from 10.00 to 13.30 (last entrance 13.15)
FREE ENTRANCE
Access to the reading room: seat reservation, timetables, distribution
Access to the reading room is by reservation for a maximum of 12 people per day.
Reservations can only be made by calling the switchboard number: +39 055 2937911 during the opening hours of the Library.
DO NOT send e-mails for seat reservations.
The maximum number of pieces allowed for viewing is 5 per day.
Please, read the admission procedures to the library, the list of the Reserve manuscripts (in the 'The Library' menu) and list of the manuscripts temporarily unavailable (here below) before booking.
Reading room opening hours: Monday – Wednesday – Friday: 8.15-13.45; Tuesday, Thursday: 8.15-17.15. Last request: 13.00.
---
List of Manuscripts and rare books temporary not available
To stay up to date on events and news, follow us on the new Facebook page.
---